Bruckner Quartet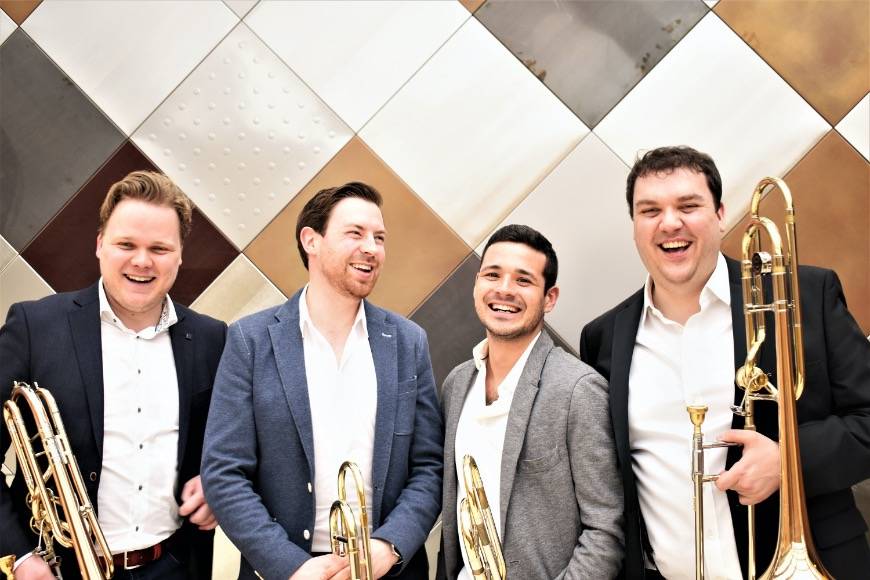 The four young men of the BRUCKNER QUARTET got to know each other during their studies in The Netherlands, where they were part of the famous trombone class of Jörgen van Rijen, Pierre Volders, Remko de Jager, and Ben van Dijk. They grew up playing together day in day out, before their individual careers took them to different places. Now they have found each other again to do what they love most: making music together.
Between the four of them, they have played with almost all of the leading ensembles and orchestras in Europe, such as the Berlin Philharmonic, the Royal Concertgebouw Orchestra, the Lucerne Festival Orchestra, the New Trombone Collective, the Ensemble Intercontemporain, and the Bavarian Radio Orchestra. They won many individual prizes and awards, and, in different formations, at one point they all won the Quartet Competition of the International Trombone Association.
Their passion for music and trombone playing has become a mission: exposing the world to the beautiful sounds of the trombone and surprising their audiences with the versatility of their, relatively unknown, instrument. The magnificence of the sound of trombones playing together is something that was acknowledged by composers very early on, and it is still a pleasure to behold. As such, the repertoire of the BRUCKNER QUARTET ranges from the Renaissance to the present day, and their innovative programmes effortlessly link these together. The ensemble is named after the composer who arguably knew best how to write for trombones in a way that makes them blend and roar: Anton Bruckner. The quartet's ability to sing, along with their creativity and individual virtuosity, makes for a remarkable ensemble that promises to dazzle with every performance.